Bubble announces $100m Series A funding to empower entrepreneurs and startups with a no-code solution – PR Web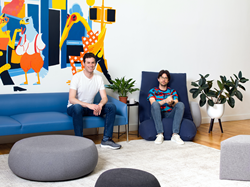 Bubble founders Josh Haas & Emmanuel Straschnov
This year has shown us that no-code tools like Bubble can create opportunities for people who otherwise couldn't create software themselves.
NEW YORK (PRWEB) July 27, 2021
Bubble, the open-ended visual programming platform that lets people build and launch web applications without code, announced today that it has closed a $100 million Series A round led by global venture capital and private equity firm Insight Partners. Existing investors SignalFire, Neo, BoxGroup, and ThirdKind also joined the round, accompanied by Betaworks, a NYC-based startup studio and early stage venture firm, and notable angel investors including the founders of Datadog, Peloton, and Hootsuite. This latest round of funding will let Bubble improve the platform's scalability to support newly-formed and scaling startups from MVP to IPO and expand educational initiatives to empower customers to build web platforms affordably.
Bubble's no-code platform empowers people without programming skills to design and launch their own digital apps, marketplaces, or tools for solving their business problems. Bubble's digital editor and cloud-hosted platform allows users to launch a web application for as low as $29 per month, as opposed to spending on average between $200,000-300,000 of dollars per year on engineers. Bubble serves more than 1 million users worldwide, has processed over $1 billion in business volume on its users' applications, and tripled its revenue in the past year, leading Bubble to be honored as one of Fast Company's Most Innovative Companies of 2021.
"This year has shown us that no-code tools like Bubble can create opportunities for people who otherwise couldn't create software themselves," said Emmanuel Straschnov, Bubble founder and co-CEO. "Bubble is still the only comprehensive tool that lets you build the next Airbnb or Twitter without relying on engineers."
Prior to Bubble's seed round of $6.5 million in June 2019, Bubble's two founders, Josh Haas and Emmanuel Straschnov, bootstrapped the company for seven years, growing solely based on revenue. This latest round of funding will also allow Bubble to further invest in its programs with universities and diversity & inclusion, such as the Immerse pre-accelerator for Black and underrepresented founders of color which launched in 2020.
"Bubble was one of the earliest no-code web app tools on the market and remains one of the most mature in terms of functionality and ecosystem," said Ryan Hinkle, Managing Director at Insight Partners, who will be joining Bubble's Board of Directors. "We are excited to help accelerate Bubble's growth and reach more early-stage founders, startups, and businesses who want to build apps quickly and affordably."
Notable startups built on Bubble include personal finance app Qoins, which raised $1.5 million in seed funding, career platform Teal, which raised $5 million, and solar financing company Dividend Finance, which raised $365 million in venture funding.
To learn more about Bubble, please visit https://bubble.io
For visual assets, founder bios and headshots, please access the media kit here.
ABOUT BUBBLE
Bubble is the most powerful no-code platform. Bubble offers a point-and-click web editor and cloud hosting platform that allows users to build fully customizable web applications and workflows, ranging from simple prototypes to complex marketplaces, SaaS products, and more. Over 1 million users are currently building and launching businesses on Bubble – many have gone on to participate in top accelerator programs, such as Y Combinator, and even raise hundreds of millions in venture funding. Bubble is more than just a product. We are a strong community of builders and entrepreneurs, united by the belief that everyone should be able to create technology. Learn more at https://bubble.io or follow us on Twitter at @bubble.
ABOUT INSIGHT PARTNERS
Insight Partners is a leading global venture capital and private equity firm investing in high-growth technology and software ScaleUp companies that are driving transformative change in their industries. Founded in 1995, Insight Partners has invested in more than 400 companies worldwide and has raised through a series of funds more than $30 billion in capital commitments. Insight's mission is to find, fund, and work successfully with visionary executives, providing them with practical, hands-on software expertise to foster long-term success. Across its people and its portfolio, Insight encourages a culture around a belief that ScaleUp companies and growth create opportunity for all. For more information on Insight and all its investments, visit http://www.insightpartners.com or follow us on Twitter @insightpartners.