City round-up: ConvaTec; SysGroup | TheBusinessDesk.com – The Business Desk
X

Register for free to receive latest news stories direct to your inbox
ConvaTec, the Deeside medical products firm, said full year revenues should be towards the upper end of its previous guidance, in a third quarter trading update today.
The group reported revenue for the period to September 30, of $511m was 3.7% higher year on year, up 2.7%1 in constant currency and 2.2%2 on an organic basis.
There was continued momentum in advanced wound care, modest growth in ostomy care and continence care, with declines, as expected, in infusion care and critical care against tough prior year comparatives.
Group revenue for the nine months to September 30, 2021, was up 5.4% on an organic and constant currency basis.
In continence care the group improved the quality of its HSG business by disposing of the non-core incontinence activities while also signing an agreement to acquire a quality US service provider focused on existing catheter users.
To further advance its new product pipeline ConvaTec has rolled out a consistent new product development and launch process across all business units. It has conducted investment, development, and scale-up gate reviews for new products such as MioAdvance Extended Wear Infusion Sets and the GentleCathTM Air male catheters launching in 2022.
The group said it is continuing to make progress and planning further investments in key initiatives such as digital interactions with healthcare professionals and consumers. It is also progressing plans to expand its global business services centre beyond finance to include HR and IT.
It reports a strengthened balance sheet with the successful issuance of $500m 2029 senior unsecured notes, diversifying group debt and extending its maturity profile.
Regarding 2021 full year guidance, the group said it now expects organic2 revenue growth to be towards the upper end of its 3.5-5.0% guidance range with a constant currency adjusted EBIT margin of 18.0-19.0%. Based on current foreign exchange, this equates to guidance of 17.4-18.4% for the published adjusted EBIT margin.
Chief executive, Karim Bitar, said: "During Q3, we continued to drive good momentum in the business and made further strategic progress implementing key transformation initiatives and improving execution.
"As expected, the growth in the third quarter slowed from Q2 given the relatively tougher comparatives. Notwithstanding the continuing uncertainties in the market, particularly around logistics and raw material inflation, for the full year we expect to be towards the upper end of our organic revenue guidance and to meet our EBIT margin guidance.
"We remain focused on pivoting to sustainable and profitable growth and are making good progress – I am confident in ConvaTec's long term growth prospects."
::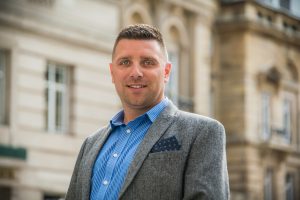 Liverpool-based Cloud hosting provider, SysGroup, said its long term prospects remain positive, in a half year trading update for the six months to September 30, today.
The group said it expects to report revenue for the first half of £7.58m, compared with £9.01m a year ago, 15.8% lower. It explained that, as noted at the time of the group's 2021 final results, customers have continued to defer and curtail expenditure decisions as a result of the pandemic and SysGroup's sales teams have continued to face restrictions in their ability to have in-person interactions with customers and prospects to develop the sales pipeline.
Operationally, performance has been robust. SysGroup continues to benefit from lower overheads as a result of integration synergies delivered from past acquisitions and the group has diligently managed its operations while continuing to invest as required in the business.
Accordingly, the group expects adjusted EBITDA to be £1.34m for the first half, which is in line with management's expectations, and compares with £1.42m in the same period the previous year.
The Group ended the half year period with a very healthy net cash position of £1.96m, compared with £1.17m a year ago.
Adam Binks, chief executive, said: "Whilst the economic uncertainty of last year has continued through H1 and has affected customer decision making, I am pleased to report that our adjusted EBITDA performance is in line with our expectations. Our team's dedication to delivering for our customers has been excellent and I thank them for their hard work during the first half of the year.
"The long term outlook for our business and market remains very positive and we are continuing to see an increasing number of companies seeking to move towards Cloud rather than on-premise solutions.
"We expect IT projects and investment decisions, as a business critical agenda item, to recover strongly once there is more certainty around the economic environment and the on-going impact of COVID-19.
"The board remains confident that adjusted EBITDA for the current financial year will be in line with its expectations."
SysGroup expects to publish its half year results for the six months ended September 30, 2021, on November 22.