Stay Ahead of Your Competition With a Virtual Private Server – G2
With the advent of the internet, cloud computing, and virtual resources, it's no longer a hassle for organizations to expand beyond their geographical and resource sharing limits.
Businesses around the world today are decisively adopting virtual servers for their employees to have a seamless understanding and usage capability of all applications and data the organizations have in store. Virtual private servers (VPS) are one such service, where a single physical server is shared among multiple users, each getting dedicated hosting resources allocated according to their requirements.
What is a virtual private server?
A virtual private server is a virtual machine that provides private resources to an organization over a server shared by different users, each with their own dedicated server. 
For businesses who have outgrown shared hosting with no dedicated resources) due to their dynamic traffic but still aren't at a position or need the resources of an entire server, VPS is an optimised solution.
With a predicted growth rate of 17.1 % over the period 2020-2025, VPS and virtualization technology have created ripples in the cloud computing arena. Let's have a look at the working model of VPS, the benefits it provides and the challenges it poses.
How does a virtual private server work?
Virtual private server providers host numerous virtual servers from a single physical host server, with a clear demarcation between resource usage, CPU availability, and network capacity for each of the users. It allows users to have complete control over their applications while sharing the server cost with a number of users. 
VPS partitions a physical server into multiple servers running their own operating systems, thus behaving as independent servers on their own. Each virtual server behaves exactly like a dedicated server for the user with root access, unique user logins, and application access.
What is the difference between VPN and VPS?
A VPS is a web hosted service that provides dedicated resources to users to host websites, run applications, and store data without actually providing them a physical server. It can serve multiple clients with separately designated VPS server resources and dedicated platforms.
A virtual private network (VPN), on the other hand, is a network of dedicated servers that help users to use an organization's resources securely over a private network. It is helpful for organizations sharing resources over different offices and countries and provides them with a safe space to do so.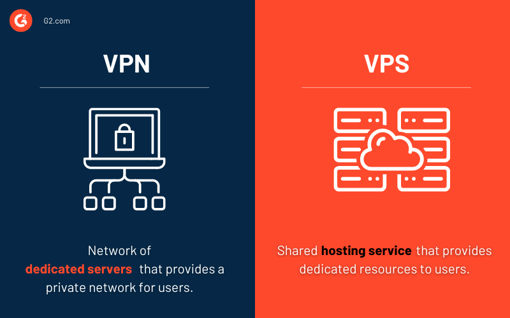 Let's look at a few aspects of shared networking where VPS and VPN can be compared in more detail.
1. Professional demographics
Virtual private servers are particularly useful for businesses since they provide affordable and robust web and application hosting plans and services. They are highly scalable and can provide a required amount of resources and manage VPS hosting as and when the business expands.
Virtual private networks are used by both individuals and organizations to provide safe and secure internet usage, safeguarding your information and ensuring a faster connection.
2. Security
Virtual private servers include traditional security features of a shared server such as firewalls and full control over user authentication. But they still remain vulnerable to data vulnerability and unexpected downtime at the VPS hosting provider's end.
Virtual private networks have built-in, robust security features like IP masking, tunneling, encryption, no-logs policies, and kill switches.
3. Cost effectiveness
VPSes imitate expensive physical servers and their resources in terms of functionality and provide the same services at a noticeably lower pricing. They are very cost effective for organizations growing at a fast pace who don't want to invest in a physical server setup.
VPNs utilize the internet to bring remote users of an organization together virtually in terms of a private network. They significantly reduce software overhead by having a single network for use by everyone in the organization, but may incur more data cost to the company since they are reliant on internet connectivity for the most part.
Using VPN with VPS
With the growing importance of data security and privacy in the business world, VPN is often used along with VPS service in order to provide organizations the liberty to mask their online presence, safeguarding them from the likes of ISPs, web hosts etc. VPN encrypts the data and provides net-neutrality to businesses by removing the geographical restrictions.
Is a VPS right for your business?
Virtual private server hosting combines the best aspects of dedicated hosting and shared hosting . An organization needing shared hosting services for their business would consider VPS hosting for the numerous benefits it has on offer. Let's discuss some of the primary benefits VPS hosting provides:
1. Control
VPS hosting plans provide admin access to your server configurations and let you use any software you need.  The server is completely managed by your organization with the additional technical support provided by the host on demand.
2. Scalability
VPS provides highly scalable servers which can handle a sudden demand to scale up operations without any downtime or network interference. For growing businesses, this provides a huge advantage since the dynamic server needs can be met as required.
3. Maintenance
VPS service providers ensure a seamless customer service by having dedicated resources and full root access for each shared user. There is also an option for managed VPS hosting, where your web host takes care of every hosting problem for a fee.
4. Reliability
Each user is given a separate set of dedicated resources in a virtual private server hosting platform, reducing the risk of website slowness in case of sudden traffic spikes. VPS also ensures better bandwidth utilization, disk space distribution storage and at most times, access to better technology.
5. Pricing 
With resource sharing options, VPS is a very cost effective hosting solution. They provide an inexpensive solution for small businesses trying to use better technology without paying upfront for an on-premise infrastructure.
Top 5 VPS providers
VPS providers provide computer server access with virtual machines that act as unique servers on their own. They help organizations create a virtual instance of each server using server virtualization software within a single physical server. 
To qualify for inclusion as a top  VPS providers, a provider must:
Provide virtual environments on a rental basis within partitioned servers
Maintain server hardware and internet connectivity for clients
Reserve server resources for each individual VPS user
Provide digital control panel to allow users to manage their virtual hosting environments
*Below are the five leading virtual private server providers from G2's Fall 2020 Grid® Report. Some reviews may be edited for clarity.
1. DigitalOcean Droplets
DigitalOcean Droplets are virtual machines running on top of virtualized hardware. It provides a convenient virtual private server hosting solution for individual developers and small applications. Each droplet created acts as a standalone new server or part of bigger cloud infrastructure.
What users like:
"DigitalOcean Droplets is one of the software that I consider as one of the best in its laboratory branch, above all because of its speed of work once it is integrated into the digital facilities of a complete organization, mentioning that it is agile and very easy to use in every sense relevant to its advanced functionalities, highlighting that it does not require basic knowledge to start using this system, which means that it is open-source so that any user can establish their operations quickly and efficiently, thanks to the flexible programming adapted to this service."
–DigitalOcean Droplets Review, Prashanthi K.
What users dislike:
"Although it is software with a great technological trend in each job in which it strives to highlight and compromise its predicted motto, we can emphasize that it does not perform several functions that are very useful for these kinds of systems that are based on the creation of sites One of these is the analysis in various branches of its operation, a subset in the reports that it should promote, is the performance of each application that it creates to know exactly how these elaborations progress, in terms of the warranty."
– DigitalOcean Droplets Review, Krunal A.
2. cPanel
cPanel provides users access to a robust set of server management features, FTP access, email management and easy website deployment services. It also helps organizations in reducing their server maintenance and user management overhead. 
What users like:
"I like cPanel because it is powerful and has many good features, and I am mentioning the useful features I like best. Super fast loading compared to other control panels. Stable File Manager tool, SSH access, Multiple PHP version using, PHP extension management, scheduling task with cron jobs.Softaculous is an awesome tool included with cPanel. Softaculous provides hundreds of free software and very effective applications and those are easy to install through Softaculous. Examples of some free application setup provided by Softaculous are Billing software, accounting software, CRM, Management software, Ecommerce software and many more CMS, ERP etc.Email management, Domain & subdomain management. Automatic backup and free version controlling, FTP access and FTP account management. 2-factor authorization security and spam filter"
– cPanel Review, MD Tarek H.
What users dislike:
"The visitor and error statistics tools are not intuitive. The user interface has an outdated design."
– cPanel Review, Carolina L.
3. AWS Direct Connect
AWS Direct Connect helps organizations establish a dedicated connection between AWS and their datacenter, providing a consistent network experience, reduced network costs, and increased bandwidth throughput.
What users like:
"Scalability of bandwidth is the most important feature of Direct Connect when establishing a secure communication protocol between our two operation locations. We trust the name of Amazon and feel secure knowing their team is protecting our sensitive data in transport."
– AWS Direct Connect Review, Myrin N.
What users dislike:
"Eventual consistency could be improved to reduce redundant data."
– AWS Direct Connect Review, Megan W.
4. Hostwinds
Hostwinds is an affordable web hosting service provider which offers website hosting for individuals and businesses of all sizes, along with around the clock support and back up system in place. 
What users like:
"I have been using Hostwinds' support for several years. After trying several different hosts, and having terrible experiences from a complete lack of support, to having to google the answers myself and sending them the links, I found Hostwinds. They give immediate support and are available at the drop of a hat. They fix things without me even having to worry or ask them oftentimes."
– Hostwinds Review, Eemil L.
What users dislike:
"Overall I would like to have higher uptime and cheaper prices."
– Hostwinds Review, Jakob R.
5. Plesk
Plesk provides features such as automation and management of domains, domain names web apps, mail accounts, programming languages, and databases. It provides a ready-to-code environment and robust security across all layers and operating systems. 
What users like:
"When we talk about the best of the best, we bring to the subject Plesk the most powerful, cost-effective and stable domain and website manager on the market, a power machine when it comes to managing services and web platforms, very light, easy to use, many connection options. and a variety of general integrations. A very advanced support service with very detailed documentation and with very easy commands you can do many things quickly and easily with solutions to all types of problems and adapt to all kinds of situations of high or low demand, always ready to give the battle."
– Plesk Review, Miguel Angel M.
What users dislike:
"I hate their 'let's encrypt' built-in integration because it never works. My site SSL is always going down, and I am always manually updating it. I hear that Plesk on digital ocean works much better with LetsEncrypt."
– Plesk Review, Keith H.
Grow your business with virtual servers
Virtual private servers and VPS shared hosting plans might not be the final solution to all your hosting problems, but they are definitely a good way to begin hosting your website and applications as you make your business remote friendly.
Deciding on a digital home and cloud hosting options for your business isn't that hard, considering the umpteen advantages shared hosting provides. Choose wisely and choose well – your business will have you to thank for it!